Queer Cardio Workshop w/ Key Kelsey Pressnall
Thursday, May 14, 2020 0:30 PM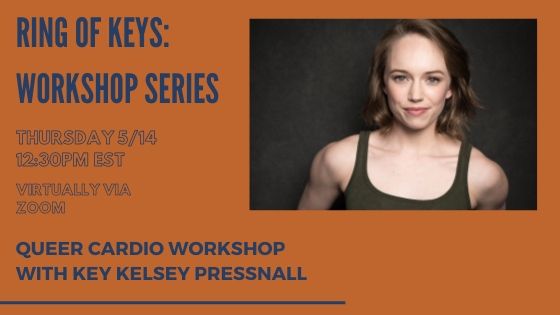 If you're like me, having the city come to a complete stop really confused my body. We were CONSTANTLY moving from event to event, job to other job, and audition to audition. And while I'm grateful this time allows us to slow down, I want to explore new ways to move our bodies that still allow us to feel strong, powerful, and grounded.
I'm offering a 30 minute HIIT-style work out for ALL levels that requires no equipment. Just put on clothes you can move in, grab your water bottle, a mat or towel and let's get out some of the wiggles from being cramped in small apartments! There will be modifications for each exercise, meaning if you'd like to intensify the work out bring along a dumbbell or whatever you have in your space to lift (I've used detergent, bottles of wine, etc - we get creative), and if you want to keep it simpler, I will meet you where you are.
*Please note that if you have had any injuries or medical conditions, you may participate but please adjust based on your own needs. When in doubt, contact your physician for guidance on what exercises will best serve your body.
Bio: Kelsey Pressnall (she/hers) is a queer actor and personal trainer. Originally from Kansas, Kelsey made her way east working in regional and children's theatre before setting down roots in NYC where she lives with her girlfriend, who she met through Ring of Keys! Outside of acting, she is a NASM-certified personal trainer who focuses on paving the way for clients who can find the gym setting intimidating or inaccessible. That said she has trained ages 22 to 71 working with clients who have been pregnant, injured, training for FBI and NYFD physical fitness tests, and everyone in-between. Her current focus is studying training for pre- and post-natal individuals.