Main content.
Monthly Workshop Series: Collaboration:Music, Book, and Lyrics w/ Keys Kit Yan and Melissa Li
May 19, 2020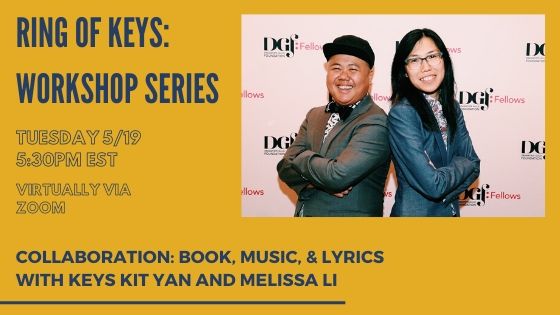 In this workshop, Kit and Melissa will talk about the collaborative writing process and putting the three parts of musical theater together. Drawing from their collective (and individual) experiences and using examples from the works they've created together, they will answer all of your burning questions about telling stories through musical theater.
Kit Yan and Melissa Li are a Queer Asian-American musical theater writing team based in New York City. They are 2019 Dramatists Guild Foundation Fellows, MacDowell Colony Fellows, Lincoln Center Writers-in-Residence, and 2019-2020 Musical Theater Factory MAKERS. Their works include Interstate, which won "Best Lyrics" at the 2018 New York Musical Festival, and MISS STEP, which was commissioned by The 5th Avenue Theater's first draft program and won a 2019 Vivace Award from the Bret Adams and Paul Reisch Foundation. Most recently, they completed a Keen Company Commission. Their work has been supported by The 5th Avenue Theatre, Playwrights Horizons, Weston Playhouse, Goodspeeds Musicals Johnny Mercer Colony, The Village Theater, Musical Theater Factory, Dixon Place, and many others. Individually, Kit's solo show Queer Heartache won 5 awards at the Chicago and SF Fringe Festivals, and their work has been produced by the American Repertory Theater, the Smithsonian, and Diversionary Theater. He is a current Playwright's Center Many Voices Fellow. Melissa is a Jonathan Larson Award recipient and a former Queer|Art|Mentorship Fellow. Her first musical Surviving the Nian (The Theater Offensive) received the IRNE Award for "Best New Play" in 2007. Her work has been supported by the National Performance Network and the New England Foundation for the Arts.